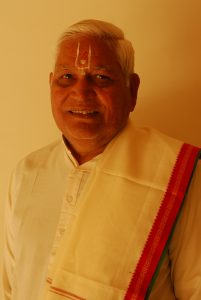 Vaidya Narottam Lal Gupta, founder of Dhanvantari Dham, was an eminent and renowned ayurvedic physician and had treated many spiritual, political and government officials of his time including, Shri Shri Srila Prabhupad Maharaj (Founder of International Society of Krishna Consciousness (ISKCON).
Vaidya Narottam Lal Guptas's goal of life was to provide access to health to everyone, irrespective of their socio-economic status. He was born in 1935 in a small village of Uttar Pradesh, India which is considered a part of brija-bhumi where Lord Krishna spent his childhood.
In his early childhood, Dada Narottam was a very active and enthusiastic, always ready to help people. After completing his education of Ayurveda from Jhansi, he started his journey with a spark in his eyes and the motive of providing a healthy life to everyone. He used to run his small clinics in various parts of the city, providing treatment of incurable disease. His belief and in-depth knowledge of Ayurveda helped him in treating severe disorders. During his life span, he organised several free health camps in rural locations where basic health services are lacking. As he was involved in several activities that aimed at making a healthy community, his efforts were recognized by awarding him with titles and awards like "Nagar Vaidya", "Ayurved Ratna", etc. 
His determination about his principles and full-of-life nature made him extraordinary. He used to run his clinic "Ayurveda Swasthya Raksha Kendra" in Vrindavan. Dhanvantari Dham was his dream project of Ayurveda and in 1995, with his family he laid the foundation stone of Dhanvantari Dham, and in the year 2000, by god's grace, the building of Dhanvatari Dham was inaugurated. 
Since then his whole family has been providing the health services to the community. After giving his whole life to the community and providing the service throughout his life, he left all of us in 2016 at the age of 82. His teachings and rich experiences always inspire us to keep going with the work and do what we are doing while spreading the precious knowledge of Ayurveda throughout the world.

At present, all his 3 sons are involved in providing the service of Ayurveda to the community. Dr. Liladhar Gupta (B.A.M.S.), serves as the director of Dhanvantari Dham. His other two sons are Vaidya Prem Shankar Khandelwal, who is taking care of Ayurvedic swasthya Raksha Kendra, in Vrindavan. And his youngest son Vaidya Vishnu Khandelwal (MD, Naturopathy) is taking care of manufacturing of the medicines.