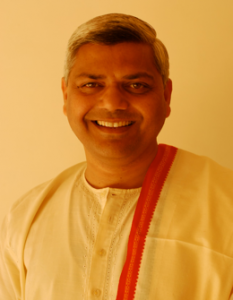 Dr. Liladhar Gupta, director and senior ayurvedic physician at Dhanvantari Dham, has 25 years of rich experience of treating thousands of patients and teaching ayurveda principles. He is the eldest son of the founder of Dhanvantari Dham, Vaidya Narottam Lal Gupta who himself was a renowned ayurvedic practitioner.
Early Life and Education
Dr. Gupta was born and brought up in Vrindavan. He started practising ayurveda from the age of 10 with his father (people used to call him "chota vaidya ji") and seeing the miraculous results from ayurveda, he got inspired to choose ayurveda as his career. After completing his B.Sc. from Mathura, he shifted to Jaipur for his degree in Ayurveda (B.A.M.S.) from India's topmost college, National Institute of Ayurveda. His guru Vaidya Madan Gopal Sharma (Ex-director of National Institute of Ayurveda) taught him the secrets of ayurveda which were not part of the curriculum.
Later, Dr. Gupta joined the International Society of Krishna Consciousness as a health advisor because he was from the birth place of Lord Krishna. He also got the offer to join California University of Ayurveda, but he declined it as he didn't want to settle there since the love for his motherland and family never allowed him to settle outside India. However, he remains to be a member of board of advisory in California College of Ayurveda and Florida vedic college. He has been travelling to USA, Australia, New Zealand, UK, China, etc, for the past 25 years, giving consultations, treatments, seminars, workshops.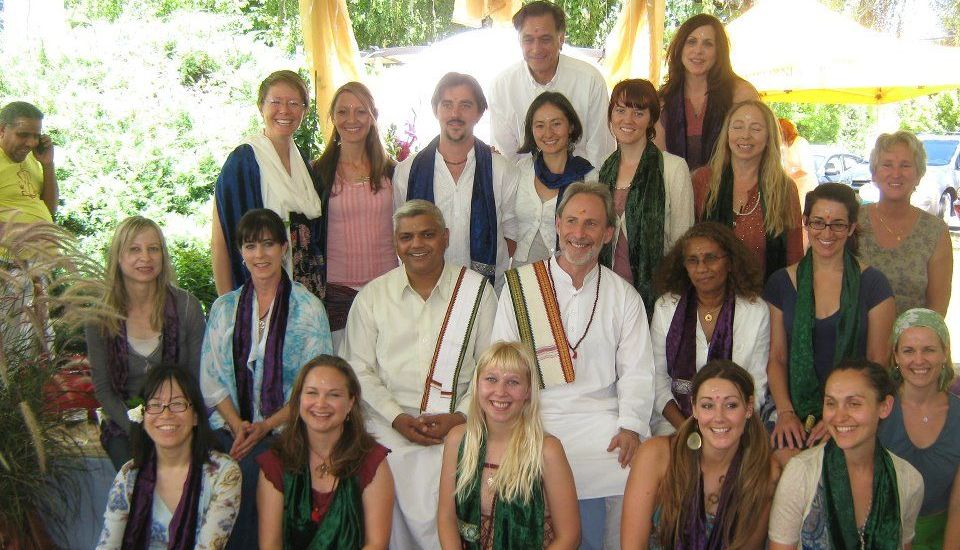 From addressing devotees to working professionals; from addressing a group of few people to addressing the audience of thousands, more than 10000s of people have benefitted from ayurveda through him during his travels.
He has now committed himself to serve at Dhanvantari Dham and give the benefit of his experience to our indian population.
Dr. Gupta's Treatment
The patients of severe disease such as multiple sclerosis, different types of cancers, diabetes, irritable bowel syndrome, thyroid have taken benefits from his treatment and are now living a healthy and happy life.
" A balance between body mind and consciousness
will always keep you healthy. "
Dr. Liladhar Gupta
Dr. Gupta treated his first official patient in the final year of his B.A.M.S. He treated a patient from New-Zealand who had traumatic paralysis (quadriplegia). From there began his journey of experiencing and spreading the knowledge of ayurveda throughout the world.
He has also designed his own self-healing course for maintaining the health of healthy people. He is popular among his students for his fun teachings, workshops and for making the complex concept of ayurveda simple and understandable. His treatments are based on diet, preventive routine and herbs.
Talking about Dr. Gupta
His immense knowledge of ayurveda, strong belief in indian culture and practices and his down to earth nature has always attracted people from different countries. In the meantime, whenever he returned to India, he used to support his father in growing Dhanvantari Dham. He himself planted the herbs in the herbal garden of Dhanvantari Dham. He has taught thousands of international student groups in India, who are now successfully running their own ayurveda centers at their places. He believes in using Ayurveda as it is, without contaminating it with modern practices. Being an expert in pulse diagnosis to manufacturing all ayurvedic medicines by himself or under his guidance, he has always stuck to crude ayurveda principles written in our vedas.
"You are missing your good habits."
Dr. Liladhar Gupta
After the demise of Vaidya Narottam Lal Gupta in 2016, he has been managing the Dhanvantari Dham with the team of physicians and his brothers. Having dedicated his life to Ayurveda, Dr. Gupta continues to provide health benefits to the people selflessly.