Ayurveda is an ancient Sanskrit word whose literal translation is "Knowledge of Life". Ayurveda originated in India more than 5000 years ago and is now becoming popular all over the world.
Ayurveda is the guideline of "how to live a healthy life", which means we are capable of taking charge of our own health. When we apply this art of healthy living, it enables us to create harmony in our everyday life. The founders of Dhanvantari Dham initiated the idea to build a project which was targeted to provide appropriate benefits of health to everyone while keeping the original form of Ayurveda intact and working on it.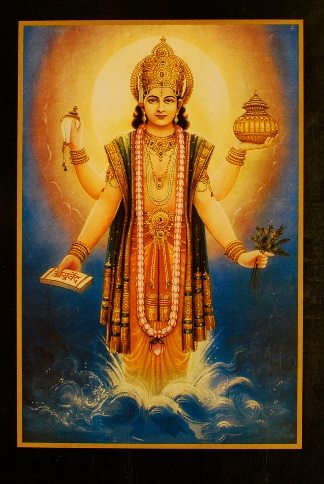 क्षीराब्धेरूत्थितं देवं, पीतवर्णं चतुर्भुजम्|
वन्दे धनवन्तरिं भक्त्या, नानागदनिषूदनम्||
Meaning: I daily worship the four-armed Lord Dhanvantari who emerged from the churning of Ksheer Sagar (samudra manthan), who emanates a golden aura and whose mere darshana can remove a variety of ailments from root.
Vision
The vision of Dhanvantari Dham was to:
Provide opportunity to work for the scholars and ordinary citizens who are working in any field of ayurveda under one scheme.
Establish a "Health-Education-Research" center with the goal of "Protecting the health of the healthy" and providing treatment to the patients.
The founders of Dhanvantari Dham initiated the idea to build a project which was targeted to provide appropriate benefits of health to everyone while keeping the original form of Ayurveda intact and working on it.
Late Vaidya Narottam Lal Gupta (Founder, Dhanvantari Dham)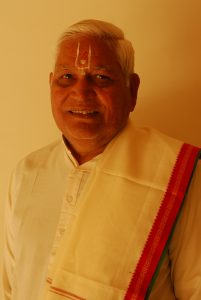 Vaidya Narottam Lal Gupta, founder of Dhanvantari Dham, was an eminent and renowned ayurvedic physician and had treated many spiritual, political and government officials of his time including, Shri Shri Srila Prabhupad Maharaj (Founder of International Society of Krishna Consciousness (ISKCON).
Vaidya Narottam Lal Guptas's goal of life was to provide access to health to everyone, irrespective of their socio-economic status. He was born in 1935 in a small village of Uttar Pradesh, India which is considered a part of brija-bhumi where Lord Krishna spent his childhood. In his early childhood, Dada Narottam was a very active and enthusiastic, always ready to help people. After completing his education of Ayurveda from Jhansi, he started his journey with a spark in his eyes and the motive of providing a healthy life to everyone. He used to run his small clinics in various parts of the city, providing treatment of incurable disease. His belief and in-depth knowledge of Ayurveda helped him in treating severe disorders. During his life span, he organised several free health camps in rural locations where basic health services are lacking. As he was involved in several activities that aimed at making a healthy community, his efforts were recognized by awarding him with titles and awards like "Nagar Vaidya", "Ayurved Ratna", etc.
Dr. Liladhar Gupta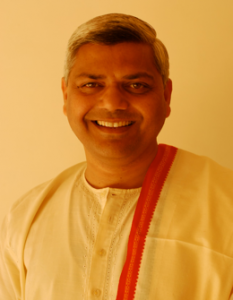 Dr. Liladhar Gupta, the director and senior ayurvedic physician of Dhanvantari Dham, started his journey of Ayurveda in 1994, immediately after completing his B.A.M.S. from National Institute of Ayurveda, Jaipur. Since then, he has treated more than 90,000 patients from all around the world and has traveled throughout the world, giving seminars, consultations and treatments. He was a part of International Society of Krishna Consciousness as a health advisor and is a member of board of advisors for the California College of Ayurveda.
Dr. Gupta specializes in treating chronic diseases through self-healing treatments that are based on diet, preventive routine and herbs. He concentrates on developing the natural immunity of the body. Having dedicated his life to Ayurveda, Dr. Gupta continues to provide health benefits to the people selflessly by using crude ayurvedic principles as it is.
Dhanvantari Dham-Treatment Center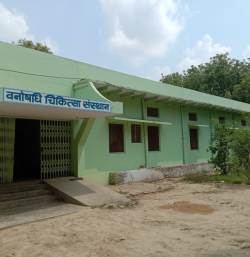 Dhanvantari Dham is spread in around several acres of land and includes a treatment center, temple of Lord Dhanvantari, herbal garden for medicines, etc. The place gets its name because of the presence of a temple of Lord Dhanvantari which is set amidst a lush green garden of more than 300 herbal and medicinal trees in the picturesque environment of nature. The farming methods are all-natural and potency of the medicinal plants is increased by traditional mantras. At Dhanvantari Dham, Panchakarma therapy is done according to the complete legislation by qualified physicians, in which the body is refreshed by performing various remedies through various activities such as snehan, swedan, vaman, virechan, niruh, aasthapan, basti and nasya, etc. Efforts are being made to provide health benefits by eliminating complex diseases from the use of herbs.