Dhanvantari Dham is an Ayurvedic treatment centre, situated at Mathura-Delhi Bypass road, near Nayati multi-speciality hospital, India, just a 3 hour drive from Delhi. 
Dhanvantari Dham is spread in around several acres of land and includes a treatment center, temple of Lord Dhanvantari, herbal garden for medicines, etc. The place gets its name because of the presence of a temple of Lord Dhanvantari which is set amidst a lush green garden of more than 300 herbal and medicinal trees in the picturesque environment of nature. The farming methods are all-natural and potency of the medicinal plants is increased by traditional mantras.
What we believe in

We mainly work to make a patient fully healthy and help preserve the health of an already healthy person through herbal medicines, Panchakarma body cleansing process and Yoga-mantra methods. 
We believe in stabilizing and increasing the body's natural immunity by purifying the human body which is contaminated by the increasing pollution and use of high power medicines.
Nowadays, the number of young patients with diseases like cancer, aids, Asthma, cervical pain, migraine, depression, gastric diseases, etc. is increasing day by day. You never know where and when can a disease catch you, so there is only one way to avoid such a dreadful situation, "to increase the immunity power of the human body so much that the germs of these diseases fail to do any harm".
Ayurveda As It Is
At Dhanvantari Dham, Panchakarma therapy is done according to the complete legislation by qualified physicians, in which the body is refreshed by performing various remedies through various activities such as snehan, swedan, vaman, virechan, niruh, aasthapan, basti and nasya, etc. Efforts are being made to provide health benefits by eliminating complex diseases from the use of herbs. 
For the last 20 years, in the effort to grow and preserve about 300 different herbal medicines, there has been a lot of success by God's grace and cooperation of the people. Efforts are being made to produce medicinal plants solely on the basis of "organic farming" without any chemical pesticides and to avoid any kind of side effects.
In view of providing a micro-experimental form to Dhanvantari Dham and to provide health benefits to the people as soon as possible, we have a Vanaushadhi Chikitsa Sansthan that helps facilitate the availability of Ayurveda medicines and give a new dimension to new research.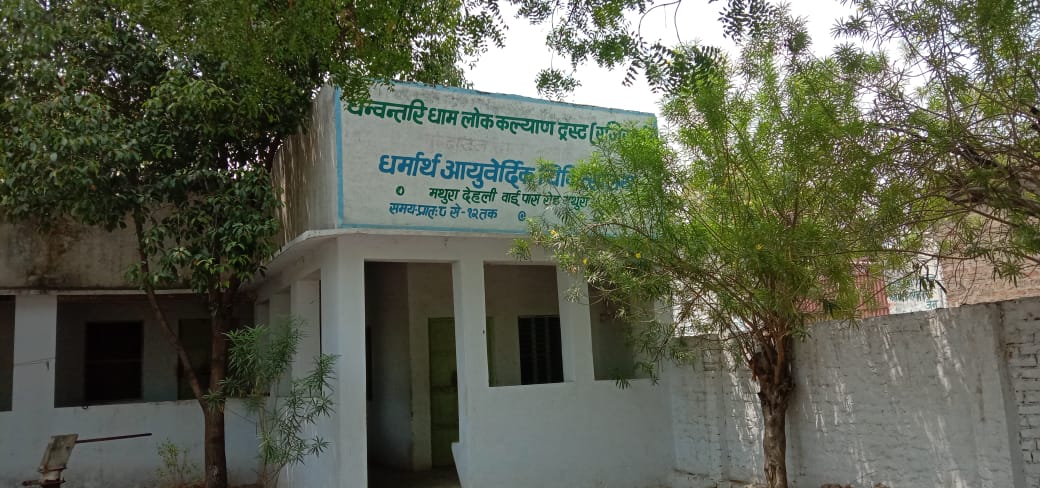 Dhanvantari Dham Charitable Dispensary is run by Dhanvantari Dham Public Welfare Trust. This trust is registered under Section 12A (a) of Income Tax Act, 1961 for the work of public welfare and education. The idea of the trust is to provide easy access to health to everyone. Through this dispensary, we have been providing free-of-cost medicine and treatment to the nearby rural people. Free health service camps are often organised in different locations of the country with the help of this trust to provide the maximum benefit to the needy ones.